About Camellias
Learn about the varieties of camellias we specialize in growing, japonica and susanqua, their characteristics and why they may be a great addition to your garden or landscaping plan.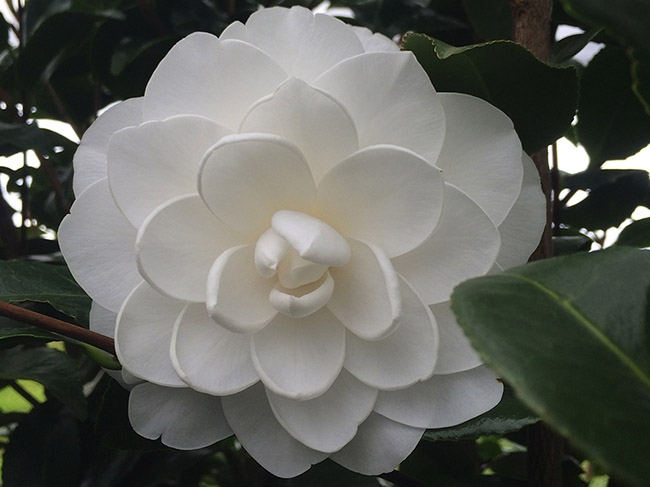 camellia japonica
'Sea Foam'
Camellia japonica (Japanese Camellia)
The most prominent species of the camellia genus is the japonica, which has been cultivated in thousands of flower forms and color variations. Popular in Japan, Korea and China, the japonica is known for it's lustrous foilage, brilliant flowers, and with proper care a long lifespan.
Flowers come in a wide array of sizes, from 1.5" miniatures to large blooms up to five inches across
Colors range from dark red to soft pink and pure white
Forms include single, semi-double, double, formal double or full peony.
Flowering usually begins in early winter. Some varieties may continue to bloom into early spring.
Equally prized by gardeners and landscapers for their evergreen foilage, featuring leaves approx 4" long, with a deep, shiny green color and leathery texture, ideal where dense hedges are needed.
Usual full grown size can range from 6 to 12 feet, spreading 6 to 10 feet wide, however depending on growing conditions they can grow larger.
camellia sasanqua
'Alabama Beauty'
Camellia sasanqua
Of the numerous species of Camellia, the sasanqua is usually thought of as the second most popular with growers. These charming beauties add color and fragrance to gardens and landscapes later in the year.
Flowers an reach 3-4 inches in size with ruffled or fluted petals and central yellow stamens. Although smaller than full bloomed japonicas, sasanquas tend to produce a higher number of flowers per plant
Mostly single or semi-double type blooms
Blooms range from cherry red to rose, and pastel pink to white.
Foilage is less coarse than japonica, with leaves approx 2" in length, which begin copper in color and mature into a rich green.
Plant size can range from 18 inches up to 12 feet
Open feeling and excellent for blending with other denser shrubs
Dependent on which variety you have, flowering begins in late summer and may last into the winter months.